Awards

ISMICT 2017 Best Paper Awards and Best Student Paper Awards have been created to contribute to the recognition of scientific quality of research and engineering of papers presented at the conference.
Best Paper Award Winner
Determining the Transmission Efficiency for Human Body Communication Using a Multilayered Phantom
Dairoku Muramatsu (Tokyo University of Science, Japan); Naruto Arai (The University of Tokyo, Japan); Ken Sasaki (University of Tokyo, Japan).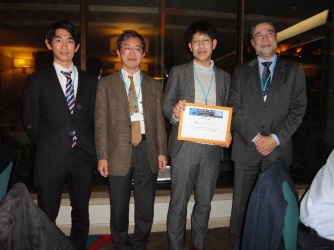 Best Student Paper Award Winner
Received Signal in Harmonic Motion Microwave Doppler Imaging as a Function of Tumor Position in a 3D Scheme
Ümit İrgin (Middle East Technical University, Turkey); Can Baris Top (Aselsan Inc., Turkey); Azadeh Kamali Tafreshi and Nevzat Gençer (Middle East Technical University, Turkey).
Awards Committee
The Awards Committee will be chaired by the General Chair, and will include the General Vice-Chair and the TPC Co-Chairs of this year's edition, and the Steering Committee Co-Chairs.
Procedure
In each category (Best Paper Award and Best Student Paper Award), the jury will evaluate the 3 best papers, and vote for the winner.
Rules
An awardee cannot be from the same institution or be co-author of a paper with any of the members of the jury.
Eligibility for a Best Student Paper Award
The candidate must fulfil the following conditions:

be a PhD student or having obtained the PhD degree no earlier than Sep. 1st, 2016.

be at most 35 years old at the Conference starting date (Feb. 6th, 2017).

be the first author of the competing paper and have a major contribution to the work.

be personally registered to ISMICT 2017.

personally present the paper at the conference.
Candidates must send documents confirming the information in 1. and 2.